Our Services
Banking & Finance
Our service covers your whole banking relationship on an ongoing basis including all aspects of your requirements for residential and business finance, private and business accounts, cash flow forecasting, credit cards, foreign exchange and trade finance.
As your representative, our objectives include negotiating the best rates, minimising fees, generating tax and administration efficiencies, streamlining tax reporting and managing risk.
Harts Financial Group holds a combined Australian Financial Services and Credit Licence (AFS&CL 324390). This allows us to act as your banking and finance adviser and provide you with 'best of breed' products and services from a large number of financial institutions whilst negotiating extremely competitive rates. It also means that we can take care of the administrative burden that invariably occurs when dealing with financial institutions, freeing up your valuable time.
Selecting Harts as your banking and finance adviser provides you with a significant number of advantages. Because Harts is your primary relationship and single point of contact, you are not wed to a particular financial institution. We can source the best financial product for your needs and negotiate lower rates than can typically be achieved by dealing direct. You are not limited to a single bank and if appropriate Harts will manage the administration of multiple products across multiple institutions so you can maximise your benefits and minimise expense.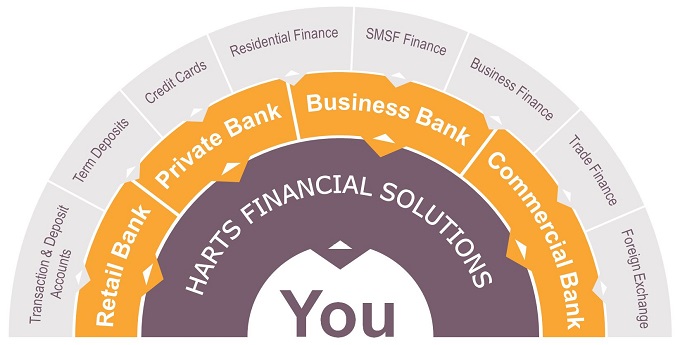 As we are an hourly based 'fee for service' provider, we are squarely in your court and represent your best interests when negotiating with financial institutions. This is backed up by Our Transparent Fee Structure where commissions received are credited against your client file to offset any 'out of pocket' costs of providing advice each year.
It is worth noting that in comparison:
If you deal directly with an employee of the bank, they are representing their employer first and foremost and will attempt to minimise risk by taking as much security for the facility as they are able and will attempt to maximise their results by charging higher margins (rates) and fees;
An employee of the bank typically only represents a single institution and as such they will not tender your requirements to the market in order to negotiate the best deal;
If you deal with a mortgage/finance broker, they are restricted as to the services they can provide you.
With both the bank and mortgage/finance broker relationships, they are unable to incorporate tax and other planning considerations into their recommendations, and as such the products and services offered may not be optimal for your situation and requirements.
With Harts as your central point of contact, the relationship you have with us and our in-depth knowledge of your particular situation remains firmly intact regardless of where your banking and finance arrangements are held.
Harts Banking & Finance service incorporates the following integrated considerations:
Performance & Reporting
Our Client Analysis Software (CAS) incorporates all of your banking and finance arrangements and generates a set of personal benchmarks that assist with the management of risk and determining appropriate banking and finance structures and gearing levels;
Detailed information on the performance of your property portfolio in relation to the market, personal benchmarks and projections are provided in our property analysis reports;
Our banking and finance reports provide detailed information on your current banking and finance arrangements and track the purpose and source of your funds. This can be particularly useful when ensuring the correct tax deductions are made and where refinances and amalgamations have occurred.
Structure
Optimising banking and finance arrangements for tax, flexibility and transparency by utilising appropriate products such as offset accounts and correctly structuring transactions and cash flows;
Maximising administrative efficiency to reduce the amount of your time required to monitor, operate and administer your banking and finance facilities;
Ensuring that financial institutions only encumber the minimum amount of security that is required for your facilities and in a manner that aims to minimise adverse outcomes should an event of default occur;
We have extensive experience with negotiating business facilities for clients so we can determine if proposed terms and covenants are fair and reasonable for your situation.
Product Features & Cost
We are able to negotiate extremely competitive rates on 'best of breed' banking and finance products. These rates can be achieved because:

The margin that forms part of the banker's remuneration is reduced or removed;
Our clients are high net worth and as a result the above average loan size is attractive to financial institutions because it reduces their administration cost per dollar of funding. This saving can be negotiated and then passed on to you;
The aggregator/dealership that acts as a distribution channel for the financial institutions can generate economies of scale;
Financial institutions use this distribution channel to 'buy' (through lower rates) certain types of debt to achieve target risk profiles for their lending exposure;
We typically tender requirements with multiple institutions and continually cross check rates on loans between $1 – $5mil.

We seek to maximise deposit rates and can advise the best products and optimal structures;
Our detailed understanding of your situation allows us to select the most suitable product for your requirements;
We are able to provide advice on fixing rates and alternative types of funding that are often overlooked.
Some of the Banking & Finance services that we offer include:
Private Banking Services
Business Banking Services
Finance Broking
Re-negotiation / Re-financing of Existing Facilities
Leasing
Loan Structuring / Re-structuring
Trade Finance
Tax Planning

Tendering / Rate Negotiations
Service Level & Relationship Negotiations
Dispute Resolution
Property Purchases
General Administration
Property Research
Foreign Currency Rate Negotiations
Borrowing through SMSF
Although we offer a full banking and finance service, our focus at Harts is not on transacting financial service or credit products, our attention remains firmly on achieving your strategic objectives and we regard these products simply as tools to be used to achieve desired outcomes.
To continue to Other Services – Click Here.
To return to Our Services – Click Here.