What Makes Us Unique?
Harts Financial Solutions delivers objective, professional advice, with a comprehensive approach built on many years of best practice. We operate on a transparent 'fee for service' basis to ensure that clients can see and control the value of the service provided at all times.
As your Private Wealth PilotTM, HFS is uniquely positioned to provide you with a fully integrated private client service which will add significant value to both your situation and team of trusted professionals. In effect, it's like having your very own Private CFOTM. It is an important role and one that we take on with passion and integrity.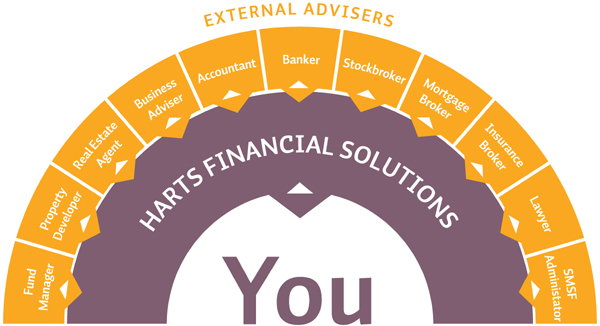 We work closely with you and your chosen advisers, working as hard as you do to achieve your financial goals.
As we deliver truly holistic financial advice, we focus on providing advice and strategies, not financial service products. Our advice framework is robust, incorporating the broad portfolio of your assets and business interests, and our advice is professional, clear and concise.
We measure our success on the outcomes we deliver for our clients.
We pride ourselves on our integrity, professionalism and transparency in everything we do. We count our clients in the hundreds – not thousands – so we're able to dedicate the time to building deep relationships.
In delivering our service, we use a proven recipe with quality ingredients:
A sophisticated yet structured approach to risk management
A clear focus on holistic advice and strategy, not transacting products
Linking professionals in a cohesive, client centric environment
Filling the gaps in advice that your other professionals can't provide
Extensive experience in dealing with high income individuals, business owners and corporate structures
Significant investment in a strong analytical/technical back-office
Ongoing development of best practice systems and processes
Harts Financial Group (HFG) operates under its own Australian Financial Services & Credit License (AFS&CL) to ensure that the advice provided is not unduly biased towards any particular institutional interests or Financial Services Product Provider.
Harts Financial Solutions Pty Ltd (ABN 36 128 904 521 / AR 321342 / CR416309) is a Corporate Authorised Representative of Harts Financial Group Pty Ltd (ABN 80 128 903 962 / AFS&CL 324390).
Harts Financial Group (HFG) is a Professional Practice of the Financial Planning Association of Australia (FPA) and is committed to upholding the FPA's Code of Professional Practice.
To download a copy of Harts Financial Group's Australian Financial Services & Credit Licence (AFS&CL) – Click Here.
To view details of the Ideal HFS Client Profile – Click Here.